NEWS STORIES


Boost Promotional Branding Acquires Sanders Marketing Group
Richmond-based distributor Boost Promotional Branding (asi/282470) has announced the acquisition of Nashville-based Sanders Marketing Group (asi/318080). Financial terms of the deal, which was made public on September 19, were not disclosed. Per the agreement, Sanders Marketing Group will immediately begin operating under the Boost name.
READ ARTICLE




Maria Impacts Promo Firms in Puerto Rico
Hurricane Maria blasted Puerto Rico on Wednesday, knocking out power to the entire island. The Category 4 storm made landfall near the city of Yabucoa with winds of 155 miles per hour, the National Hurricane Center reported. There are 99 ASI-listed distributors in Puerto Rico, some of which are still recovering from a brush with Hurricane Irma earlier this month.




SPONSORED
Five Ways to Make More Money & Better Your Work/Life Balance
Read on to learn how having your own distributorship can give you the ability to grow sales, build wealth for your future and live your life to the fullest.
LEARN MORE




Report: Holiday Retail Sales Could Grow 4.5%
Economists are predicting strong retail sales for the upcoming holiday season, thanks to increases in personal income and elevated consumer confidence. Deloitte forecasts holiday sales growth of as much as 4.5%. Promo firms, meanwhile, are equally confident about the upcoming season.




SPONSORED
Hot or Not: E-commerce Edition
Did you know that trends in the e-commerce industry indicate 70% of online transactions happen on mobile devices? Or that 56% of buyers expect to make at least half of their purchases online in the next three years? Join us for a webinar where you will learn some of the hottest trends in the booming e-commerce industry and find out how to identify the right customer and platform to help you WIN BIG.
LEARN MORE




The Joe Show: Fall Promos Galore
In this episode of The Joe Show, Product Editor Joe Haley demos several new promo items, including a powerful flashlight, a Magic Cook lunch box, a seven-inch foam football and clever, super-customizable luggage.



ADVERTISEMENT





ADVERTISEMENT

TOP
ADVERTISEMENT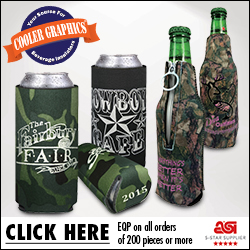 Stran Promotional Solutions Acquires Lindon Associates
Distributor Stran Promotional Solutions (asi/337725) has acquired Holliston, MA-based Lindon Associates (asi/254251), the companies have announced. Financial terms of the deal, which Stran calls its "first major acquisition," were not released. As part of the agreement, Lindon's president, Lee Cohen, will join Stran in a sales and business development role.
TOP
ADVERTISEMENT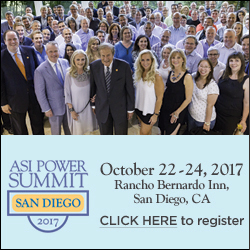 Eye on Irma: Latest Updates on Affected Companies
In the aftermath of Hurricane Irma, industry firms throughout Florida continue to face challenges, and some are just now reopening after regaining power. Click below for the latest information, and if your company has been impacted, notify us at feedback@asicentral.com.

TOP
NFL Team Postpones DNA Test Promo Giveaway
Nothing says football quite like DNA testing, eh? Apparently, the rally towels, hats, shirts, cups and bobbleheads that dominate sports teams' gameday giveaways were too blasé for the Baltimore Ravens. To mix things up, the team intended to give fans attending last weekend's home opener against the Cleveland Browns a genetic testing kit. But that never happened.

TOP
TV Stars Donate T-Shirt Proceeds to Harvey Relief
Chip and Joanna Gaines, the co-stars of the HGTV series Fixer Upper, are donating 100% of the proceeds of their branded "Texas Forever" T-shirts toward Hurricane Harvey disaster relief. The navy shirts with white lettering are available on the Gaines' Magnolia online store shop.magnoliamarket.com. They're made of poly/cotton/rayon, come in sizes S-XXL and cost $26. The promotion will run until September 30.

TOP
Deadline Extended: Wearables Apparel Design Awards
Wearables magazine is extending the deadline for its annual apparel design awards. The magazine is still on the hunt for the best industry garments and embellishment. Suppliers, distributors and decorators are encouraged to nominate worthy apparel, accessories and decorations to compete in a range of categories. Apparel categories include best polo, best apparel innovation, best trendy hat and more. Decoration categories include best screen printing and best multimedia design.
For contest rules and to fill in our online entry form, please click on the following link: bit.ly/2iDPaST. The new deadline to enter is September 25.

TOP
In the News
CBL Custom Apparel & Promotions (asi/154700) and nonprofit Blankets of Hope are working with The Salvation Army DFW to send 1,000 fleece blankets to families affected by Hurricane Harvey. There is a GoFundMe campaign to raise $2,500 to cover the blankets being picked up: www.gofundme.com/blankets-of-hopehurricane-harvey.
Cooler Graphics (asi/80345), which suffered a fire in July, is operating normally and is accepting most standard lead time orders for products. For assistance with quotes, inquiries and orders, please call customer service toll-free at (877) 922-0262, or email orders@coolergraphics.com.
MasterCast Ltd. (asi/69240) has completed the integration of the Amcraft product line.
Click here for September news updates.

TOP
People on the Move
AST Sportswear Inc. (asi/30244) welcomes Ray Hughes as vice president of sales and marketing.
MasterCast Ltd. (asi/69240) announced that Joshua Katseff was recently elected vice president of MasterCast Ltd. He will continue as general manager of all selling divisions.
Click here to see more September personnel moves.

TOP

ASI Awards $1,000 Intern Scholarships
Three young professionals from the industry-wide ASI Internship Program wrote winning essays about their experience in the promotional industry.  
Find out more.

ASI Launches Global ESP Campaign
"Explore More with ESP" helps distributors maximize the many benefits of the No. 1 business technology platform in the promo industry.
Find out more.
TOP

THE ASI SHOW
2018 ASI ROADSHOW SCHEDULE AVAILABLE
We're excited to announce our 2018 ASI Roadshow dates and cities. We are visiting 44 cities across the U.S. and Canada over 11 weeks and 7 months. If cutting-edge promo products are important to you, then you can't afford to miss the ASI Roadshow when we travel to a city near you.
Registration will be coming soon – continue to check www.asiroadshow.com for updates!
| | | |
| --- | --- | --- |
| Week | Date | City |
| Pacific | February 5-8 | Seattle, Portland, Sacramento, San Francisco |
| Southern California | February 12-15 | Van Nuys, Irvine, Los Angeles, San Diego |
| Northeast | March 12-15 | Boston, Stamford, Long Island, Northern New Jersey |
| Mid-Atlantic | March 19-22 | Southern New Jersey, Philadelphia, Baltimore, Washington, D.C. |
| Midwest I | April 16-20 | Minneapolis, Des Moines, Omaha, Kansas City, St. Louis |
| Canada East | April 30-May 2 | Ottawa, Toronto, Burlington |
| Canada West | May 14-17 | Vancouver, Travel Day, Calgary, Edmonton |
| Great West | June 4-7 | Salt Lake City, Denver, Albuquerque, Phoenix |
| Southeast | September 24-27 | Raleigh, Charlotte, Atlanta, Nashville |
| Texas | October 1-5 | New Orleans, Baton Rouge, Houston, San Antonio, Austin |
| Great Lakes | October 15-18 | Buffalo, Cleveland, Detroit, Indianapolis |
*Schedule subject to change.
ASI distributor members, invite your clients to join you at the ASI Roadshow! Show them how dedicated you are to their success and gain loyalty by bringing them into the sourcing process. They will be easily identifiable with a generic badge and special lanyard, but their information will remain confidential, so the appropriate business conversations can take place.
Follow ASI Show on Twitter, Instagram and Facebook for the latest ASI Roadshow updates, pictures, and event news. Be sure to use the hashtag #ASIRoadshow with all of your social media posts! Also, remember to join our LinkedIn group.